Welcome to our Yahoo Daily Fantasy Sports review.  Yahoo is well known for their season long fantasy sports leagues and competitions.  Well they also offer daily contests to cover even more of your fantasy sports needs.  Users can play games from the most popular sports leagues including MLB, NFL, NBA, NHL, as well as some professional soccer leagues.  A majority of these contests play for money and are not legal in some states.  For more information on what states are eligible see Yahoo's Who Can Play? page.  Also be aware that Yahoo does not report your earnings or send a 1099, so you are responsible to report any contest earnings for tax purposes.  In our review of Yahoo DFS, I will cover both the positive and negative aspects I have encountered while playing daily fantasy games through their platform.
Why Daily Fantasy?
I have tried DFS on a variety of sites including DraftKings and FanDuel, so I was interested in seeing what Yahoo had to offer.  As I've mentioned in my other reviews, the huge draw of playing daily contests is you don't have to make the season long commitment.  As such, you can jump in and out as you please without penalty.  These games take some time to learn and master, so you'll want to try out a lot and see what you like and are most successful at.  You also don't have to round up competitors, collect/payout money, etc. so you can just focus on having fun, cheering for your teams, and winning money.
Although my focus will be on giving an objective account of my experience using Yahoo, I have certain expectations from a DFS site.  Therefore, I will often mention unique or missing features to help you get a good impression of the platform and how it compares with the more established ones you may be more familiar with.
To sign up at Yahoo: Join Yahoo DFS
Getting Started
Once you're ready to try out DFS on Yahoo, it's fairly easy to get started.  If you already have an account with Yahoo, then you're ready to go.  You don't need to create a new account specifically for DFS.  Otherwise, signing up is very easy.  Since they don't issue tax forms, you don't have to provide too much specific information other than a mobile number which is used for password recovery.  See below for a screenshot of the signup process.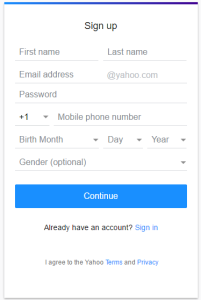 Before discussing the deposit system and customer bonus, I want to point out that there are some free contests.  There's no risk in trying these games out before putting any money on the line.  At any point if you have questions regarding Yahoo DFS, they provide a help page that addresses many questions you might have.
Depositing Money
If you try out the free games and want to win prizes on Yahoo, you will want to deposit some money into your account.  Yahoo only uses PayPal for depositing and withdrawing funds, so you must also create an account with them if you don't already have one.  Note that PayPal is the most secure and convenient way for managing funds with most DFS sites, so even if you decide not to play on Yahoo, it's well worth your time to create a PayPal account.  Once you have a PayPal account, you can link (and unlink) it with Yahoo very easily.  You simply click the "Link PayPal Account" button and will be redirected to PayPal to sign in.
Once you're ready to deposit money, be aware that the minimum amount you can deposit is $10 and maximum is $2,000.  You can also set daily deposit limits in your account page to limit your spending.
Promotions and Rewards
New Customer Deposit Bonus
Standard to most DFS sites is a one-time deposit bonus for new customers.  Yahoo is no different.  Their initial deposit bonus is the highest I have seen on any DFS site.  They match either 100% or 200% of your initial deposit (max is $2000), depending on whether you play their season long leagues.  See screenshots below for the different offerings.
If you're new to DFS, you must understand you don't get the bonus money immediately.  Instead you have to earn it by playing paid games, so essentially you'll likely have to deposit quite a bit more money in order to earn the bonus that was advertised.
Yahoo deposit bonus money accrues at a rate of 4% of the cost of games. So for every $25 of paid contest, you play then you get $1 of your deposit bonus.  As an example, if you deposit $10 and have not played season long leagues, then you'll need to play $250 worth of paid games before you get the $10 deposit bonus advertises.  This means you have to either win enough money in contests to keep playing or deposit more money in order to get the total bonus money.
My suggestion is to try the free games and figure out whether you really like the site before making your first deposit.  The reason I say this is that you only get one chance at the bonus, so if your first deposit is only $10 to try it out but you end up spending thousands on contests later then you'll regret not just committing to it from the get-go.
Referral Bonus
Yahoo has infrastructure to invite your friends to play contests with you on their platform.  However, other than the bragging rights you get from beating your friends, you're not currently rewarded for getting other people to sign up.  Hopefully this will change in the future.
Loyalty Rewards
Yahoo does not have a loyalty rewards program that I came across.  You do not earn points per paid contest like on other sites outside of accruing your deposit bonus.  Their focus seems to be on convenience and fair play.
Promotions Summary
Yahoo has the best new customer deposit bonus that I have found in terms of how much they match.  Unfortunately, they do not offer any other promotions that I found.  Instead their focus seems to be giving you one place to play all your fantasy sports and providing a fair place to compete in DFS.
System Interface and Options
Contest Lobby
Yahoo DFS has a fairly simple and easy to use contest lobby.  Like most other DFS sites, they have filters for each sport, contest type, and entry fee.  You can also sort the table but contest name, contest size, entry fee, total contest prizes, and start date/time.  They also offer a search box to better help you find the contest you're interested in entering.  In addition to this, they provide some extra labels including contests that are guaranteed to run and contests that allow multiple entries.  For Head-to-Head contests, they label veteran players accordingly. More on this later.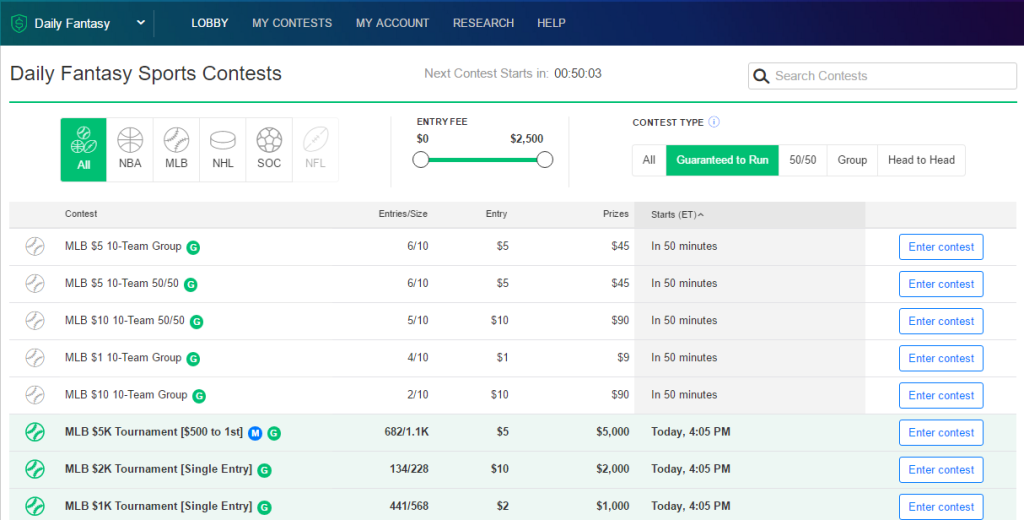 Contest Management Tools
Once you sign up for some contests it's important to manage them and easily keep track of scores as contests go live. As you start playing these games on the various DFS sites you may want to change your lineup or see your live and upcoming contests.  Yahoo has an interface for managing all of your contests and lineups.
As part of this interface, they also offer a global player swap.  This is very important for users who enter the same players on multiple teams especially for late inactives. The tool is easy to use as it displays the salary of the player you replace and shows via color coding which players meet your salary requirements.  See below for example.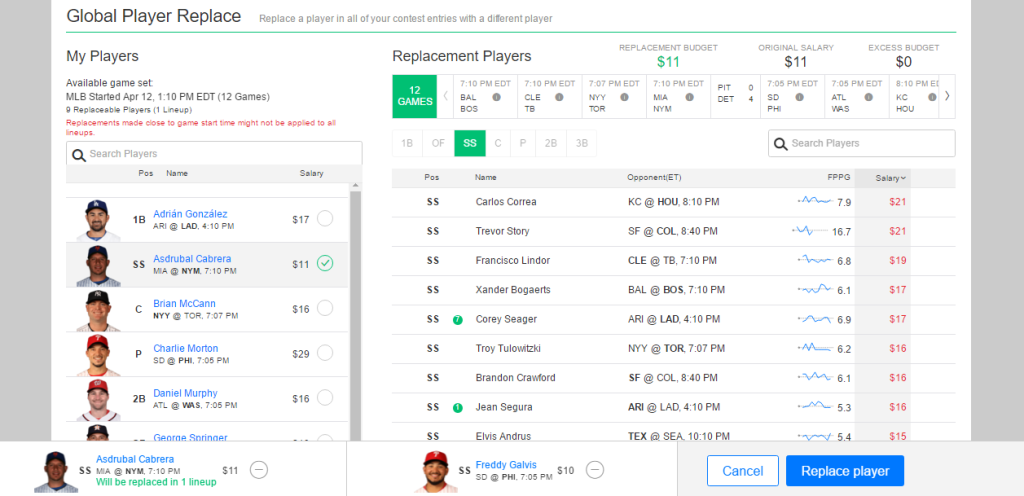 Account Management Tools
Yahoo has a pledge to promote fair play and prevent addiction to their games that could be detrimental to its users.  As such you can place stricter limits on your daily deposit maximum as well as disable your account for a specified period of time.  In addition to these tools, Yahoo has some extra limitations on multiple entries for tournaments, disabling scripts for entering multiple teams, and making the big money winners more transparent to users when entering contests.
Contest Types
Free
As mentioned, Yahoo has some free contests for you to try out their DFS.  None of these contests offer any sort of prizes for the free contests, but it's a good way to familiarize yourself with their rules and make sure you like them before depositing money.
Head-to-head
Yahoo has head-to-head contests for all of their sports.  You set a full lineup and play against a single opponent.  Unless you're a veteran DFS player, I would avoid these matchups.  When I searched the head-to-head on the contest interface, there wasn't a single one where the opponent wasn't labeled a veteran.  And of course if you create your own paid head-to-head contest then there's a good chance an experienced player will be join.  Yahoo does not have any system to allow beginners to match up with one another.
50-50
50-50 contests on Yahoo pay out half the players at nearly double their money.  For example, a 10 team 50-50 contest for $10 pays out $18 to the top 5 players.  In case of ties, the players who are tied for the last place will split the last payout.  So if 3 people are tied for 5th place, then each will be paid $6.
Create Your Own Contest
If you cannot find a contest to suit your needs, Yahoo offers a simple yet interface for creating your own contest.  They pretty much give you the power to create any combination of contest they offer.  As seen in the interface below, you can choose your own combination of sport, entry fee, prize structure, number of entrants, sport session, etc.  You can even make your contest private so that only people you invite can enter.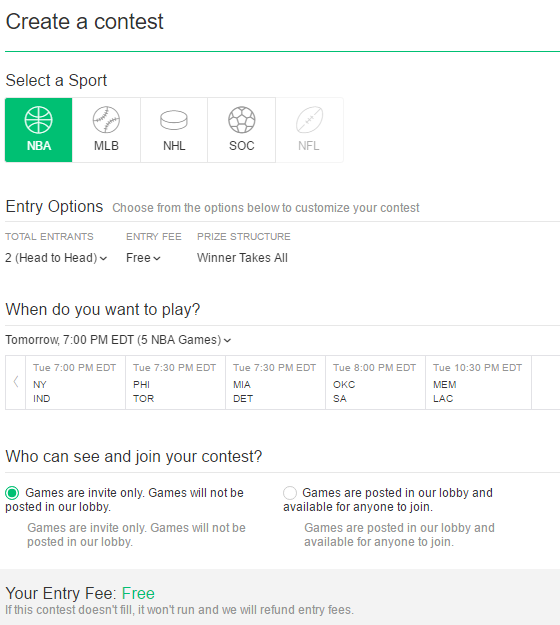 Contest Summary
Yahoo offers only the standard set of DFS games for you to play in a wide variety of sports.  You can choose from larger leagues that pay money to half the participants, enter tournaments with higher payouts but lower odds of winning, or be matchup head-to-head with another user in winner take all contest.
Collecting payouts
Withdrawing your funds from your Yahoo account is fairly easy.  You can submit a request to withdraw funds once per day for any amount between $1 and $10,000.  The money will be deposited back into your PayPal account.  Yahoo does not charge any transaction fee for withdrawals.
On the Go Options
Mobile Site
Nowadays, every good site needs to have solid on-the-go options in the form of a mobile optimized site and companion app.  Yahoo offers a solid mobile website for managing your fantasy contests.  Pretty much all of the functionality of the main website is available via mobile with almost everything optimized for the smaller screen size and touch screen functionality of course.
Mobile App
Yahoo has a mobile app that you can download in the App Store for iPhone users and Google Play store for Android phone users.  Like the mobile site, the app is optimized for smart phone usage.  All of the functionality is available, intuitive to use, and worked really well when I tried it out.  See below for contest creation screenshot.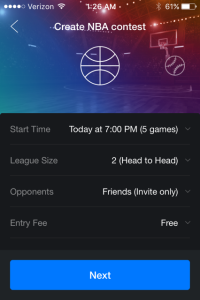 The only thing missing is push notifications.  For those who like to see these updates on their phone, this is a bummer.  However, I'm actually kind of glad they didn't include push notifications.  At first I liked them but these DFS sites can't seem to figure out that an overabundance of marketing messages is annoying so it's actually refreshing not to have to turn off notifications.  Hopefully if they add them in the future, it will only be for very important updates such as a player in your lineup being deemed inactive.
Pros/Cons
Pro: Best initial deposit bonus with up to 200% matched.
Pro: Easy to deposit/withdraw funds from account via PayPal.
Pro: Good contest creation tool.
Pro: Emphasis on fair play and transparency on opponents good for beginners and casual players.
Pro: Systems in place to limit addiction such as personal daily deposit limits and option to make account inactive for a set amount of time.
Pro: Solid mobile options.
Con: No referral bonus system
Con: Contest variety is lacking.  No unique contest formats.
Con: Lacks huge payouts that DraftKings and FanDuel offer.
Conclusion
Yahoo's addition of DFS contests means you can play all of your fantasy sports in one place.  However, they do not provide a lot of incentives to keep you there outside of a really good deposit bonus.  They lack a referral or rewards program to encourage players to stick around.  They also lack any unique contests or anything that truly sets them apart from the other DFS sites.  Their biggest upside is their transparency with regard to marking opponents as veterans and greatly limiting multiple entries and use of scripts so that these sharks are dominating all of the contest winnings.
If you want just the basics and not trying to hit the jackpot, Yahoo has some reasonable contests and their interface is very easy to use.  Their mobile options are fully functional and worked very well for me.  Yahoo includes some of the much needed options for managing your teams including a global player swap and a contest management page.
I hope you enjoyed our review.  If you're hesitant to try out DraftKings or FanDuel due to the money being dominated by experts, then Yahoo might be a place to check out.  Their focus on fair play may provide a level playing field to give you a better chance of competing for the prizes.
To sign up at Yahoo: Join Yahoo DFS
Reputation:


New Customer Bonus:


Referral Bonus:
Promotions/Rewards:


Contest Variety:


Ease of Use:


Payouts:


Mobile Platform: